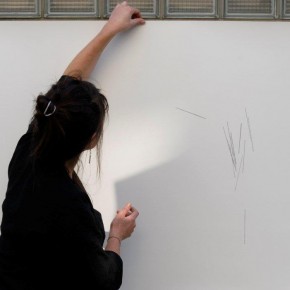 Born in 1983 in Nantes, she graduated from the Ecole nationale supérieure d'art – National higher school of art of Bourges in 2008. She lives and works in Bruxelles.
« The aim is to adopt and try out a posture that puts observation first.  The stroke is listening in a double experience between physical reality and imagination that crosses it, changing the experience of drawing in a phenomenon. Drawing appears to be a living material, between work and document, research and result. This in-between status reflects the importance of process and above all of time.
During the three months of my residence, I wish to make a kind of inventory; an inventory of matters. Drawing based on the collections and observations I have made in the surrounding areas of the Ateliers du Plessix-Madeuc.
This new set will refer to researches linked to the experience of duration and space too, visible or planned ».
She is supported by Didier Mencoboni, painter and professor at the École supérieure des beaux-arts – Higher school of art of Bourges.