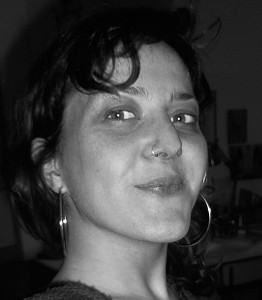 Born in 1985, she lives and works in Rennes. Graduated from the Ecole européenne supérieure d'Art de Bretagne (EESAB) – European higher school of art of Britany of Rennes in 2010 in Communication, specialty authors edition (summa cum laude).
Residence project: After the burning
«I like when a detail in the image can be the exhibit to a hidden story.
I borrow from the reality to arrange images. I am a storyteller of obscure frames, random furrow, provocative lines, evocative remorse, steamy erasures, giving birth to imaginary lands where a story begins, a projection space where a story is being played.
My work moves between reality and fiction. Reverse shots become visual landmarks to understand the story that is played in the image. I use the fiction notion that is closed to novels, to build images. I look for the zone of uncertain significations so that I always move further the bounds between appeal and aversion.
The starting point of this residence project: After the Burning, is the notion of resiliency or the man fight to (re)born as man, to reborn from his aches. I will go and meet people from Corseul to get accounts telling these resiliency processes. These stories bit by bit gathered will become the raw material and the starting point of images and sculptures I will make.
The whole creation will be displayed as a scenography mixing texts and images and also clay sculptures. A narrative flow will bear as the stories will be told and drawn.