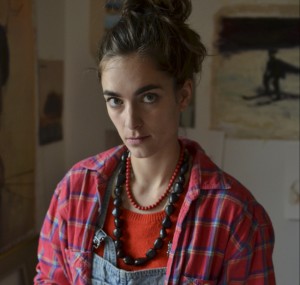 Born in 1984 in Marburg (Germany). Graduated from the Muthesius Academy of Design and Fine Arts of Kiel (Germany). Lives and works in Toulouse.
My work deals with a revocation of memory through images.

Inspired by Roland Barthes writings in "Camara Lucida" I work with photographs as "windows to other times" that yet tell us a lot about us today.

Since my work is inspired by thinking about memory as a dynamic and creative process that underpins who we are now, and which can lead to our experience of the contemporary, I am interested in how this is reflected in the process of making my paintings, through the transformation of an image, the editing and embellishing processes of interpretation.

In my ongoing project "Migrate" in which I am momentarily working with photographs of the crossing of the Pyrenees by Spanish refugees during the Spanish civil war, I like to relate and get into contact with a place and people through their cultural collective memory. In Toulouse, where I have crossed many people of Spanish origins and where an active engineering scene is booming, this collective memory might comprise the Spanish Retirada, the explosion of the factory in 2001 or milestones and heros of science, like Marie Curie. (But it is maybe too early for me to say) In Corseul I would like to continue my work on the collective memory, by researching the local library, archives even maybe talking or interacting with local residents and their connections o the land and their people. I could imagine finding some traditional images or hints at popular festivals or some anecdotes of history that are somewhat connected/interrelated to the memory of either Corseul or the Castle Plessix-Madeuc and then, after I collected this visual material start my own interpretation and reading of the images in paint.